Original article published: diamondaircraft.com
Diamond Aircraft Austria and California based, Air Bear Tactical Aircraft, LLC are excited to jointly announce that Diamond's special mission aircraft flagship will be touring the United States this summer.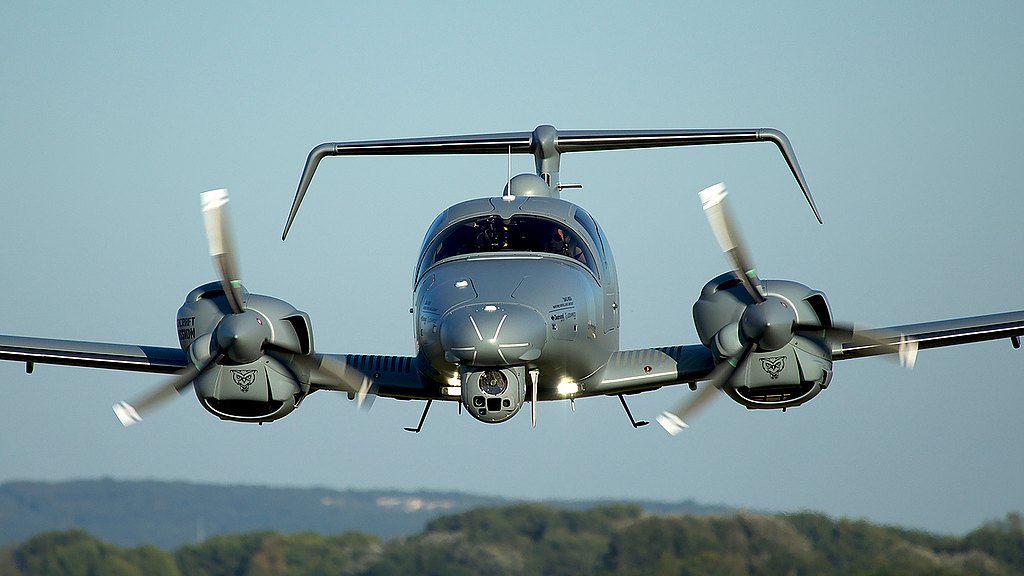 The tour is scheduled to start early July from Diamond Aircraft's London, Ontario facility and will last until end of August/early September with a stop at the APSCON event in Reno, NV, 25 – 30 July, Air Bear booth 808, where the aircraft will be on the show floor for the entire week.
"This is the first time ever that the DA62 MPP is flying in the United States. The whole team has been putting a lot of effort into the preparations and everyone is very much looking forward to start this journey," says Mario Spiegel, Sales Manager Diamond Special Mission Aircraft at Diamond Aircraft Austria. "Fully FAA certified, the aircraft will be delivering to North American launch customers beginning in early 2023. Air Bear has received robust response to the DA62 MPP and is ready to help you take your aviation program to the next level."
Markus Fischer, Director, Special Mission Aircraft: "In cooperation with Air Bear and all other partners, we put a lot of effort into this demo as it is such important to show the airplane and its capabilities in the field. There is no question that we expect a big boost to the US market and generate a lot of interests and even some bookings during the demo. I am looking very much forward to receiving the first feedback from US pilots and operators to further improve our DA62 MPP capabilities."
Air Bear's Director of Law Enforcement Operations, John Nielsen: "The DA62 MPP has set the bar high for the future of airborne surveillance. For the first time, airborne law enforcement has an extremely capable aircraft designed specifically for the mission. With its unprecedented economics and outstanding safety characteristics, the DA62 MPP is indeed the wave of the future for airborne law enforcement."
The DA62 MPP demonstration aircraft will be configured with a standard suite of mission equipment typical of many airborne law enforcement operators. The versatility of the MPP platform also allows it to be a solid performer for littoral maritime patrol, counter drug/illegal immigration and other ISR activities. Additionally, it is a solid performer in commercial aerial survey and pipeline/powerline mission applications.
The aircraft will be outfitted with the following mission equipment:
Contact us to learn more about the upcoming demo tour and where you may see the DA62 MPP here: Book DA62 Tour Meeting
About the DA62 MPP
The DA62 MPP is the latest variant of Diamond Aircraft's successful Special Mission Aircraft portfolio. The all-carbon-fibre, twin-engine aircraft is equipped with a state-of-the-art glass cockpit and a fully integrated autopilot. It is powered by two turbo charged jet-fuel engines which enable the aircraft to stay airborne for up to eight hours due to their superb fuel efficiency. The carbon fibre material provides for unlimited airframe life and is not subject to corrosion, even when operated in saline and humid environments. Together, fuel efficiency and the unlimited airframe life combine for extremely low direct operating costs, making the DA62 MPP the most cost-efficient Special Mission Aircraft in its class. To learn more about the DA62 MPP capabilities, please visit: www.diamondaircraft.com/en/special-mission/aircraft/da62-mpp/overview.
About CarteNav
CarteNav, established in 2002, develops ISR Mission Software for security, safety, economic, and environmental operations. The team has built its reputation on embracing challenges others may avoid, such as integrating with the world's most innovative sensors that extend the operator's capabilities far beyond the status quo – achieving ISR capabilities for threats that are complex and without boundaries. And with over 500 customer installations in over 40 countries, CarteNav's ISR Mission Software is built to be highly adaptable for meeting today's diverse operational requirements.
About Diamond Aircraft's Special Mission Concept
Like no other special mission aircraft supplier, Diamond Aircraft has taken its special mission concept into a 360° turnkey solution: one single point of contact. The special mission turnkey solutions comprise a cost-efficient fixed wing remote sensing Diamond Aircraft platform, airborne sensors, data-links, ground stations, global support, spare parts, tooling, transport as well as the corresponding pilot, operator and maintenance training. To find out more, please visit: www.diamondaircraft.com/en/special-mission/special-mission-concept.
About Air Bear Tactical Aircraft
Air Bear Tactical Aircraft, LLC provides complete, mission ready airborne law enforcement solutions, custom designed for specific agency mission requirements. With a staff of experienced airborne law enforcement and expert aircraft acquisition personnel, Air Bear has the capability to deliver solutions which meet and exceed your needs. Tactical Flight Officer and Pilot tactical training, operational consulting and custom integration are all part of the services Air Bear provides.
Please visit www.airbear.aero for more information.